educated and experienced – but can't afford to go to work'
'Thousands of mums are educated and experienced – but can't afford to go to work'
The founder of a company that specialises in finding mothers flexible employment describes what she's discovered about this topic through her work.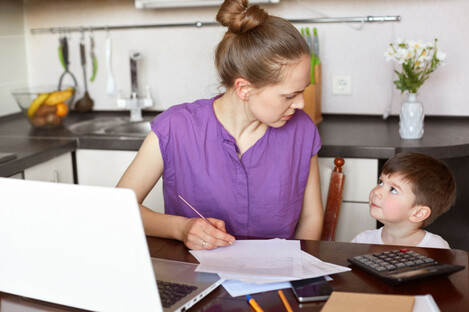 I WAS NOT surprised by the results of the research by ESRI this week where it stated that childcare costs are "a significant barrier to employment for women", especially lone parents.
I know because I run Employmum, a flexible recruitment agency that specialises in finding parents flexible work. So we speak to women all over Ireland and we hear the same story from them: that they cannot afford to go to work.
They tell us it actually costs them money to pay for childcare and go out to work, particularly with low-paying jobs.
According to the latest CSO figures, there are over 450,000 women who state their role is 'home duties' compared to just under 10,000 men. Many of these women are educated, qualified, skilled and experienced and are prevented from progressing their careers due to childcare costs and the inflexibility of employers.
Flexible work for all
Childcare costs in the Ireland of today are prohibitive in some cases and while there is not going to be a significant change in this in the near future, Employmum believes that the solution lies in flexible work for all.
Flexible work can mean part time work, job share, remote work, flexi hours or compressed hours – and these can all alleviate the costs of childcare for a working parent.
Working parents, and particularly mothers, who generally are the caregivers in a family arrangement, can benefit from flexible work arrangements in order to remain in the workplace and to continue their careers.
Traditional ways of working are not the future of work. The whole idea of having to be present from 9-5 (and often much longer working hours are expected) in an office in an urban sprawl just does not make sense in the modern world we live in.
Working remotely, in some cases, can add two hours a day onto a person's working week and can allow parents to work from home and save on those child care hours. Part time, or working while children are in school (from 9am to 3pm for example) is another solution for the parent with school-going children.
Working during term time, while the children are at school, is another example of how flexible work can make all the difference.
The great thing for working parents is that, as we reach nearly full employment, employers are realising that by offering flexible work, they can obtain and retain excellent, high calibre people in the war for talent. Savvy employers are tapping into this resource and opening their doors by offering a more flexible approach
It is also very encouraging to see the EU coming on board recently – a new directive would introduce an individual right to carers' leave, previously not recognised at EU level.
This would also extend the right to request flexible working arrangements for parents, until the child is at least 8 years old, as well as for carers. Parents and carers could ask, for example, for flexible working hours or working patterns and for the right to work remotely.
Economic sense
Europe-wide, just over 50% of women work full time, compared to 71.2% of men – therefore the full employment gap is actually 25.5%. Caring responsibilities are the reasons for inactivity for 20% of inactive women, compared to 2% of men.
Not only does this make sense for professional parents, it also makes economic sense – the economic loss due to the gender employment gap in Europe amounts to over €370 billion euro.
As we reach full employment in Ireland, Employmum believes it's possible for businesses to tap into the educated, skilled and experienced workforce eager to work in a flexible way and .. employ mum!
Karen O'Reilly is the founder of Employmum – a flexible recruitment agency which seeks flexible work for professional parents and matches them to companies with flexible roles. She is a qualified accountant with over 20 years experience in running her own businesses in France. She returned to Ireland five years ago and established Employmum