Groundbreaking new cancer treatment discovered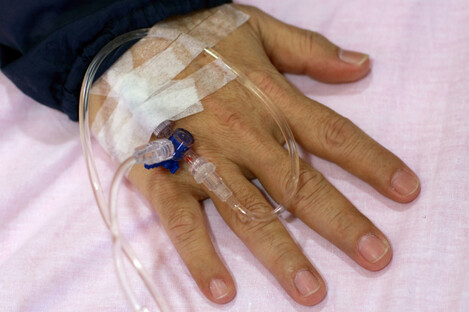 File photo
Groundbreaking new cancer treatment discovered by Belfast researchers
The process uses the aggressive nature of cancer cells against them.
RESEARCHERS AT QUEEN'S University Belfast have discovered a groundbreaking new treatment for bowel cancer.
The process can target and kill bowel cancer cells, and may improve survival rates for patients globally.
The research, published in the Molecular Cancer Therapeutics journal, is deemed the first of its kind with the discovery of a novel treatment strategy for patients who originally present with an extremely poor survival outcome.
The study compared two groups of bowel cancer patients one year post-diagnosis. Members of the first group were considered to be doing "well" while members of the second group had a poorer outcome.
Dr Nicholas Forsythe, lead researcher at the Centre for Cancer Research and Cell Biology at Queen's University, explained that the research focused on an aggressive subgroup of colon cancers known as BRAF mutants.
"These cancers are not only extremely aggressive, but they do not respond well to conventional cancer treatments. Unfortunately this means patients diagnosed with a BRAF mutant cancer have a very poor prognosis.
Our research has identified a cellular process that can be exploited in order to kill these cancer cells. Essentially, we can take advantage of the aggressive biology of these cancers and use it against them.
The researchers said the next step of this work is to explore novel drugs which could ultimately change the survival outcome for patients